Coca-Cola European Partners
Coca-Cola European Partners is the world's largest independent Coca-Cola bottler and a leading European consumer goods company.
CCEP serve over 300 million consumers and employ 23,500 people in 14 countries across Western Europe. CCEP is the exclusive franchisee of The Coca-Cola Company in 13 countries: Andorra, Belgium, France, Germany, Great Britain, Iceland, Luxembourg, Monaco, Netherlands, Norway, Portugal, Spain and Sweden. They have a strong local presence in all our territories, with about 50 manufacturing sites and more than 6,000 sales people in the field.
CCEP were looking to consolidate all of their European websites onto a single platform to improve governance, consistency and efficiency. Ultimately creating a World-class Corporate site that engages stakeholders, delivers a compelling user experience and sets a benchmark for the industry.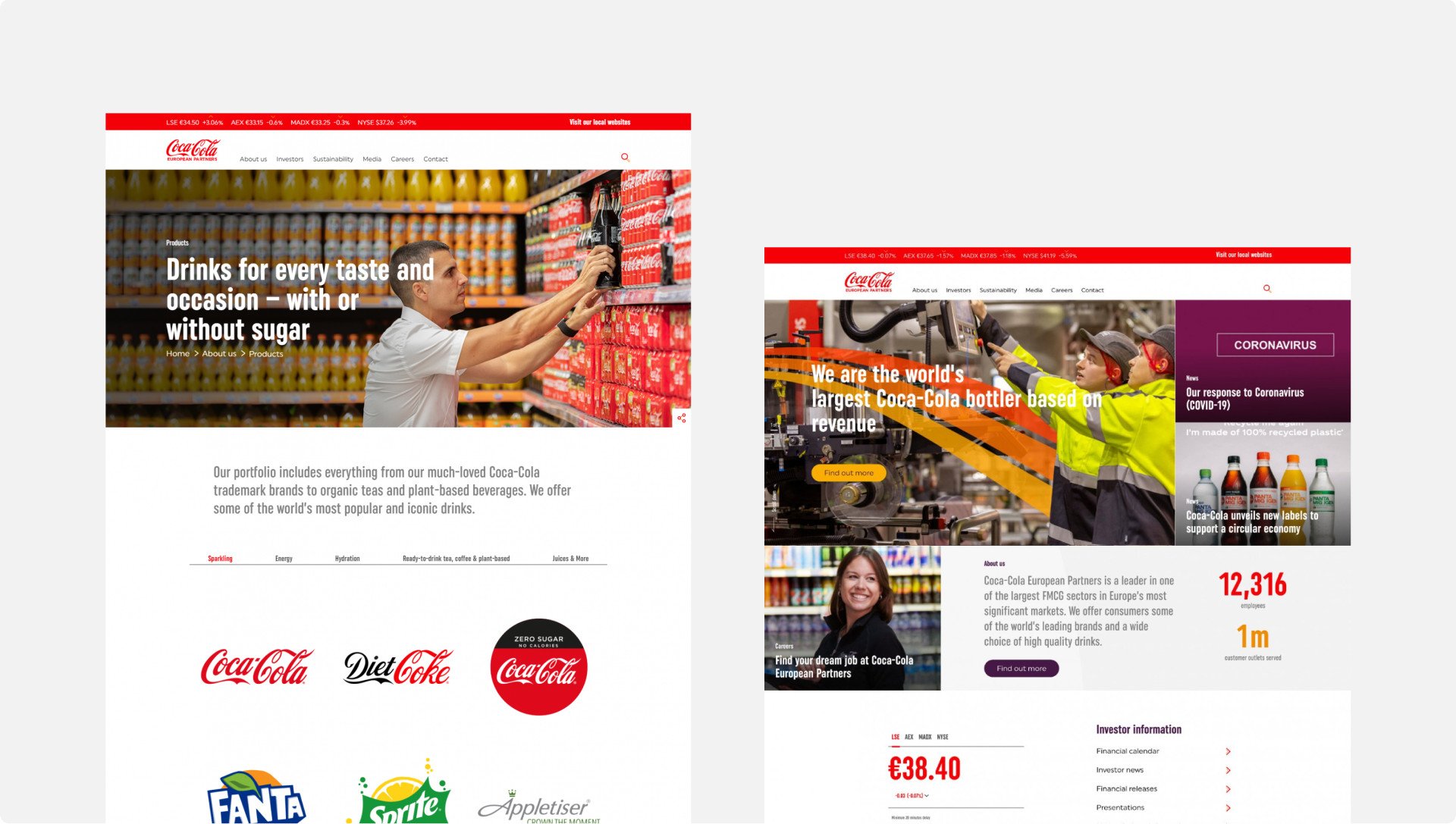 The approach
Key to the success of this project was building a strong project team with our agency partner, Conran Design Group, so they could employ their skills developing design principles for the sites and we could scope the technology to bring them to life.
We put in place an open source Enterprise-level content management system which provides the right level of functionality for the digital team at Coca-Cola, future-proofs the sites, and offers the right balance of governance and flexibility to deliver efficiency where it's needed.
A multi-disciplined project team was established across CCEP, Conran Design Group and 7DOTS to work collaboratively throughout the project, ensuring the final site remained true to the original vision.
The European Group site went live in Q4 2019, and we're now working on a programme to roll out similar sites across further European regions.