Japan House London
Japan House London is the cultural home of Japan based in Kensington High Street.
As part of a global initiative led by the Japanese Ministry of Foreign Affairs, it presents the very best of Japanese art, design, gastronomy, innovation and technology and aims to deepen our appreciation of all that Japan has to offer. The space includes an exhibition gallery, events area, Japanese restaurant and a retail floor of thoughtfully curated Japanese crafts, books, stationery and kitchen utensils. This is complemented by a diverse line-up of exhibitions, events, workshops, and seminars.
The Japanese Ministry of Foreign Affairs were looking to create a digital experience which raised awareness of and showcased Japanese culture, and introduced the Japan House London experience, ultimately driving footfall to the building.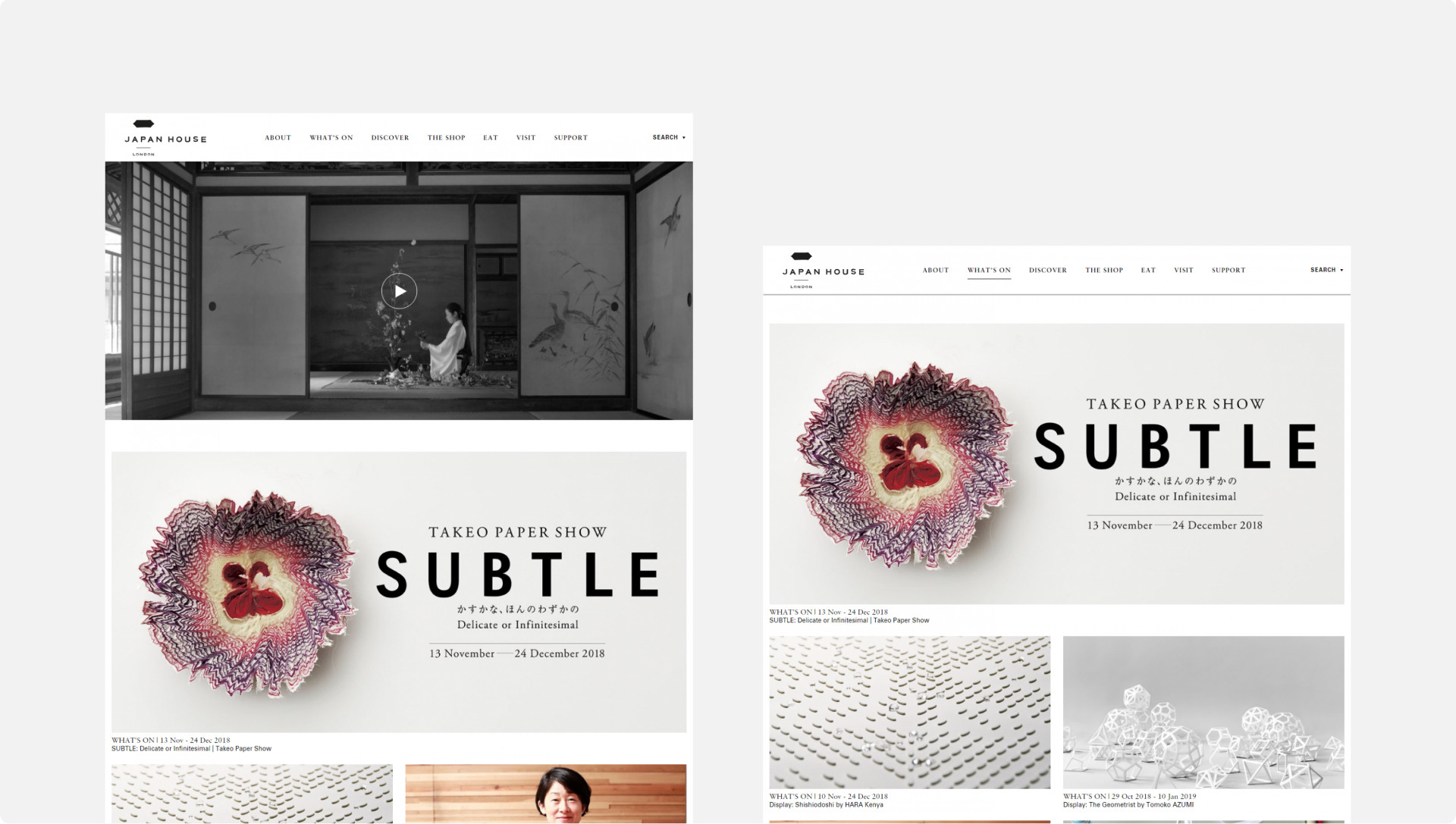 Our approach
We embarked on our own journey to understand the culture we needed to represent in the digital space, and work out how to best bring this and Japanese design trends to life.
We worked closely with the team at JHL responsible for delivering the building to scope and define the exact requirements for the website. And had a number of briefing sessions with the brand agency based in Japan to ensure an exacting look and feel could be achieved.
The experience we created brought the online and offline aesthetics together - a website guided by Japanese design promoting the latest events and tablet kiosk app to enhance the real-world experience for the visitor.
To ensure both the website and the app could be easily maintained and updated by JHL themselves, the website was built on a flexible CMS platform. The kiosk app was developed using a remote deployment system so it can be updated with minimal effort or disruption.
We have also put in place an ongoing search engine optimisation and content programme to drive traffic to the site.
The outcome
Following the redesign of the homepage, the new site has seen a significant increase in organic traffic, witnessing a 31% increase in clicks coupled with an average CTR increase of 37%, compared to the previous six months.
Also, in that same time period, the homepage witnessed a 24% reduction in users bouncing coupled with an 11% increase in users exploring the homepage as a result of our ongoing content optimisation content recommendations.
+31%
increase in clicks from search engine links
-24%
reduction in home page bounce rate
+11%
increase in home page engagement